Prep Your Friendsgiving Feast
Friendsgiving has the best of everything—good eats, great wine, your favorite people, and a lot to be grateful for.
It's time to settle the guest list and prep the feast with a bounty of great tips.
Tip #1: Pull Names for the Toast
---
When the table is set and all your favorite people have a seat, there's only one thing left before you dig in—the toast! Typically, this is left to the host, but let's change up tradition this year and include everyone. Before guests arrive, place all their names into a basket (or make it extra festive with a cornucopia). Pass the basket around the table and have each person pull a name. Once pulled, give everyone a few minutes to prepare a short toast in honor of the person whose name they picked.

Oh, and make sure those wine glasses are full. With 4 bottles of delicious wine wrapped up in one box, Black Box has more than enough toasts to go around.
Tip #2: Try Recipes That Travel Well
---
When it comes to a Friendsgiving potluck, oven space is always tough. It's best to leave the hot foods to the host and have guests provide the rest. These delicious foods travel well and don't need the oven upon arrival...and they all taste even better with a glass of Black Box wine!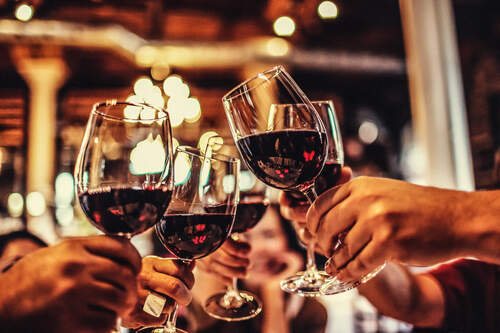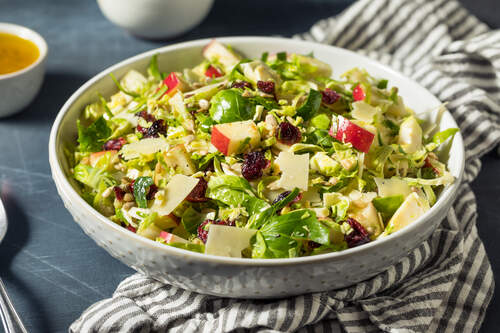 Brussel Sprouts Salad
(Pair with Black Box Merlot)
---
Ingredients:
(2) 12oz. bags of Brussel sprouts
1 apple
1/2 cup dried cranberries
1/4 cup chopped nuts of choice
2 oz. goat cheese

Combine for Salad Dressing:
1 tsp. lemon juice
2 Tbsp. honey
1/3 cup olive oil
3 Tbsp. apple cider vinegar
2 tsp. Dijon mustard
Directions: Thinly slice the Brussel sprouts and chop the apple. Add to a large salad bowl with cranberries and nuts. Toss with the dressing, salt and pepper to taste, and add the goat cheese before serving.
Homemade Cornbread
(Pair with Black Box Pinot Noir)
---
Ingredients:
1 Tbsp. shortening
1 cup cornmeal
1 cup canned corn
1 egg
1/4 cup vegetable oil
1 cup all-purpose flour
1/3 cup sugar
1/4 tsp. salt
1 cup milk
4 tsp. baking powder
Directions: Coat a 9x9 dish with shortening and preheat oven to 425ºF.
Combine cornmeal, flour, sugar, baking powder, and salt in a large bowl.
Combine milk, egg, oil, and corn in a separate bowl. Add the liquid mixture to the dry ingredients and combine.
Pour into the baking dish and cook until golden brown (15-20 minutes).
Drizzle with honey before serving!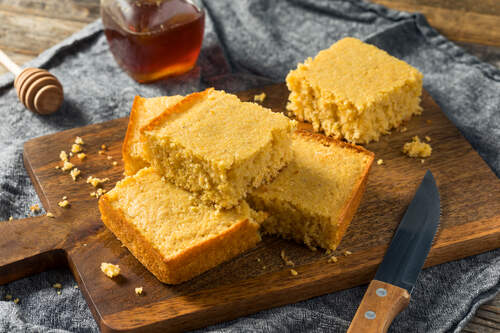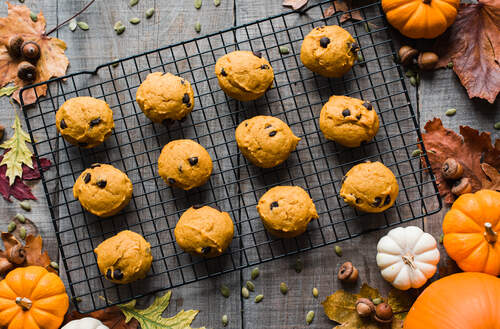 Pumpkin Chocolate Chip Cookies
(Pair with Black Box Cabernet Sauvignon)
---
Ingredients:
1 cup pumpkin puree
1 cup sugar
1/2 cup vegetable oil
1 tsp. vanilla extract
1 egg
2 cups flour
2 tsp. baking powder
1 tsp. baking soda
1 tsp. cinnamon
1/2 tsp. salt
1 tsp. milk
1 cup chocolate chips
Directions: Line a baking sheet with parchment paper and preheat oven to 350ºF.
Combine pumpkin puree, sugar, egg, oil, and vanilla in a mixer.
Combine flour, baking powder, cinnamon, and salt.
Dissolve baking soda in a bowl with milk.
Add dry ingredients and the baking soda/milk to the pumpkin mix and combine.
Scoop dough onto the baking sheet and bake for about 10 minutes.
Pair these recipes with Black Box wines and your favorite Friendsgiving foods days after the gathering! Our wines stay fresh for up to 6 weeks after opening,* so make sure you save all the leftovers.
Tip #3: Offer A Parting Gift
---
Don't let friends leave the party without their favorite wine! Treat your guests to Black Box minis. These wines are portable, toss-able, and pack 3 glasses of wine in every 500mL container. So when you pack up the leftovers, be sure to include a mini or two in your guests' to-go bag. Black Box minis are sold as singles and 4-packs, making them the best choice for Friendsgiving parting gifts.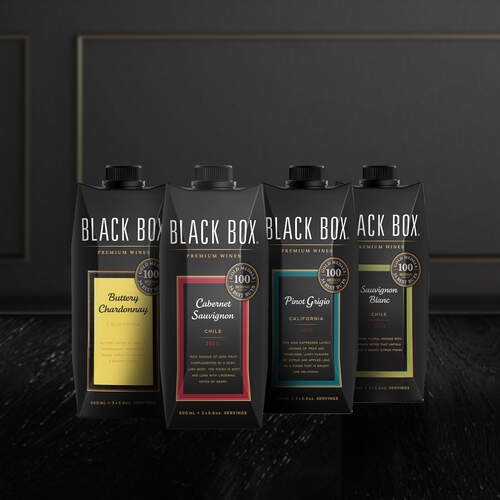 *©IRI, Total US MULO, L52 weeks ending 05-01-22, Black Box Wines 3L and Commercial Premium Wines, Price per 750ml
**Applicable to all 3L products except the Made with Organic Grapes Collection, which is fresh for 4 weeks.