Still Thankful: Freshen Up Your Thanksgiving Leftovers With Black Box Wines
Thanksgiving Day is famous for its food, but what about all of those savory leftovers? There's so much you can do with the overflow of turkey, stuffing, mashed potatoes, sweet yams, cranberry sauce and dinner rolls that we had to write a whole blog about it! Here are a few of our favorite leftover recipes and the wines we pair them with.
---
Turkey Salad Sliders with Pinot Noir
What if you took all of your Thanksgiving leftovers, mixed them together, and served them on dinner rolls? Okay… we're oversimplifying here. But this turkey salad recipe combines all kinds of yummy leftovers to create the perfect post-holiday sliders. What could make this mini-feast even richer? Why, a glass of our Pinot Noir, of course.
TURKEY SALAD SLIDERS
(Makes 10-12 sliders)

INGREDIENTS
10-to-12 dinner rolls
4 cups leftover turkey, chopped or shredded
½ cup celery, diced
1 green onion, thinly sliced
½ cup mayonnaise
1 tsp Dijon mustard
1 tsp sugar
Salt and pepper, to taste
¼ cup pecans, chopped (optional)
Leftover cranberry sauce (optional)
INSTRUCTIONS
In a large mixing bowl, combine turkey, celery, green onion, mayonnaise, Dijon mustard, sugar, pecans, and salt and pepper to taste. Mix until a creamy turkey salad is formed. Serve on toasted dinner rolls, topped with cranberry sauce. Pair with Black Box Pinot Noir for a luscious treat.
---
Stuffing-Stuffed Mushrooms with Merlot
Although Thanksgiving stuffing is traditionally used to stuff…y'know…a turkey, we see no reason to limit that yummy dressing exclusively to poultry! These stuffed mushrooms are an excellent use for your leftover dressing and pair perfectly with a hearty glass of Black Box Merlot. Plus, there's a good chance you already have all the ingredients you need in your kitchen!
STUFFING-STUFFED MUSHROOMS
(Makes 6 servings)

INGREDIENTS
24 button mushroom caps, stems removed
1 ½ cups leftover stuffing
2/3 cup grated parmesan
4 tbsp butter, melted
3 tbsp fresh parsley, chopped
1 clove garlic, minced
INSTRUCTIONS
Preheat oven to 400℉. In a large bowl, combine stuffing, ½ cup parmesan, parsley, garlic and 2 Tbsp melted butter. Spoon mixture into mushroom caps and place on a lined, greased baking sheet. Sprinkle mushrooms with remaining butter and parmesan. Bake for 20 minutes, or until mushrooms begin to soften. Serve immediately with a freshly-poured glass of Black Box Merlot.
Savory Mashed Potato Waffles with Cabernet Sauvignon
If you own a waffle maker, there's a good chance you've already discovered the surprising versatility this appliance offers. You can make breakfast, lunch and dinner with a waffle maker—especially if you've got a buffet of holiday leftovers to work with. This recipe breathes new life into one of the greatest side dishes of all time (and drizzles some leftover gravy on top!) Pair these savory waffles with a rich glass of Black Box Cabernet Sauvignon for a full, balanced flavor.
SAVORY MASHED POTATO WAFFLES
(Makes 4-6 waffles)

INGREDIENTS
2 ½ cups leftover mashed potatoes, creamy
1/3 cup all-purpose flour
2 large eggs, beaten
1 cup shredded cheddar cheese
Leftover gravy (optional, as topping)
INSTRUCTIONS
Preheat waffle iron to high heat. In a large bowl, mix together mashed potatoes, flour, eggs and cheese until smooth. Spray waffle iron with non-stick spray, then add a ½ cup of potato mixture to the iron. Cook until edges are golden brown and waffle is cooked through. Serve immediately, topped with leftover gravy and paired with a bold glass of Black Box Cabernet Sauvignon.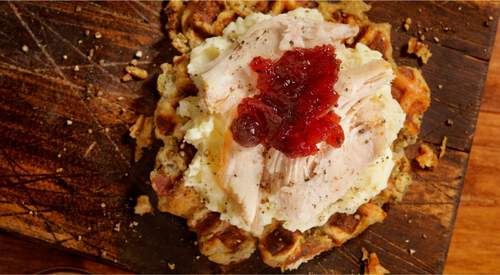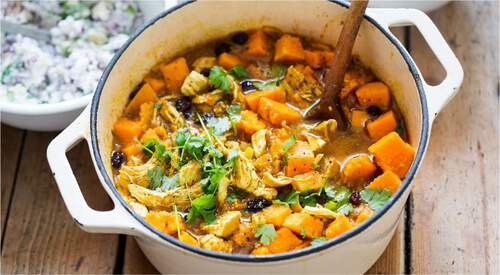 Chardonnay + Sweet Potato Casserole Muffins

What could be better than Sweet Potato casserole? Enjoying it in muffin form! If you're like us, the sweet potato casserole is the first dish to run out at the holiday feast. But on the off chance you have some leftovers, we'd highly recommend whipping up a batch of these sweet muffins for a special post-holiday indulgence. Pair with a rich glass of Black Box Chardonnay for an added dose of yum.
SWEET POTATO CASSEROLE MUFFINS
(Makes 12 muffins)
INGREDIENTS:
1 ½ cups sweet potato casserole
2 large eggs, beaten
½ cup unsalted butter, melted
¾ cup light brown sugar, packed
½ tbsp vanilla extract
1 ½ cups all-purpose flour
2 tsp baking powder
½ tsp baking soda
1 tsp cinnamon
½ tsp nutmeg
½ cup pecans, chopped
INSTRUCTIONS:
Preheat oven to 350℉. In a large bowl, beat together sweet potatoes, eggs, butter, brown sugar and vanilla. In a separate bowl, mix together flour, baking powder, baking soda, cinnamon, nutmeg, pecans and salt to taste. Add dry mixture to wet mixture and stir until combined. Spoon batter into a greased 12-muffin pan. Bake for 20-25 minutes, testing for doneness at 20 minutes. (NOTE: If the you can insert a toothpick into a muffin and it comes out clean, the muffins are done.) Let muffins cool before serving with a chilled glass of Black Box Chardonnay.
Why Black Box for your holiday occasions?
Our wines have earned more than 70 gold medals in wine competitions nationwide, yet still costs 40% less than comparable bottled wines. Best of all, Black Box Wines stay fresh for six weeks after opening, so you can keep enjoying them long after the holiday has ended!