Your Favorite Brunch Recipes
Bake your way through brunch with award-winning Black Box wines. From a savory quiche to sweet blueberry scones, these pairings will set the tone for many brunches to come.
---
Asparagus Puff Pastry Wraps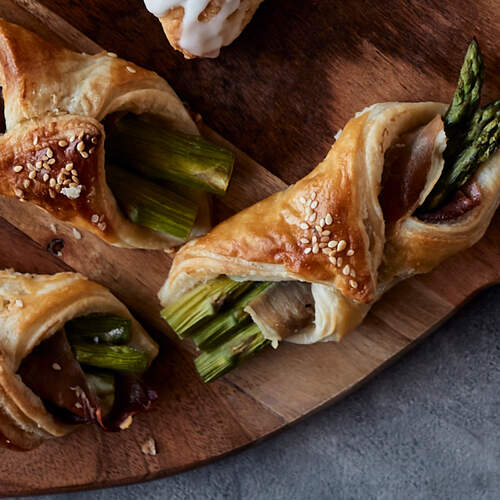 • 1 bunch asparagus (about 12-16 ounces) ends trimmed
• 1 tablespoon extra virgin olive oil
• kosher salt
• pepper
• 2 sheets frozen puff pastry thawed
• 8 ounces Gruyere shredded
• 12 slices prosciutto
• 1 egg beaten
• Preheat oven to 425°F. Line a sheet pan with parchment paper. • On a lightly floured surface, roll the puff pastry out to a large rectangle about double the original size. Square off edges and cut into 6 squares. (I use a pizza cutter to do this). • Toss asparagus in olive oil and season with salt and pepper • To make the bundles, place slice of prosciutto on top of the square. I folded the prosciutto in half so that it fit nicely on the square. Follow with 3-4 stalks of asparagus (depending on size) and 1-2 tablespoons of cheese.
• Lift two opposite corners of the puff pastry squares and wrap them around the asparagus and press to seal. Brush puff pastry with egg wash. Sprinkle with more salt and pepper if desired.
• Bake until puff pastry is golden and puffed, about 12-15 minutes. Serve immediately.
• 2 cups all-purpose flour
• 3/4 cup sugar
• 3-1/2 teaspoons baking powder
• 2 large eggs, separated
• 1-1/2 cups whole milk
• 1 cup butter, melted
• 1 teaspoon vanilla extract
• Sliced fresh strawberries or syrup
• In a bowl, combine flour, sugar and baking powder. In another bowl, lightly beat egg yolks. Add milk, butter and vanilla; mix well. Stir into dry ingredients just until combined. Beat egg whites until stiff peaks form; fold into batter.
• Bake in a preheated waffle iron according to manufacturer's directions until golden brown. Serve with strawberries or syrup.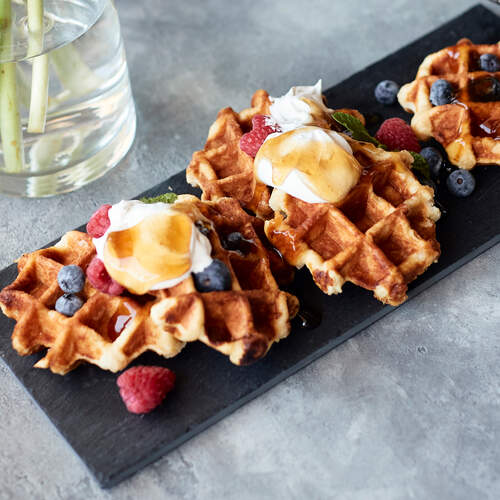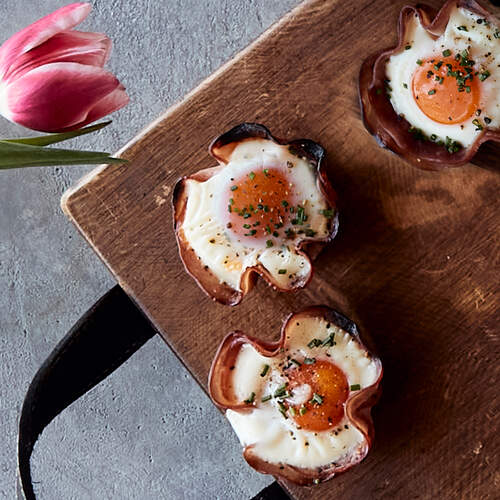 • 12 slices Ham
• Parsley, fresh
• 12 Eggs, large
• Kosher salt
• Pepper, freshly ground
• 1 1/2 cups Cheddar cheese
• Cooking spray
• Preheat oven to 400 degrees F. Spray the cups of a 12 cup muffin pan; set aside.
• Line each cup with a slice of ham. Trim the slices if they are too large.
• Add about 1 tablespoon of cheese on top of the ham.
• Crack an egg into each of the cups.
• Season with kosher salt and pepper.
• Bake for 12 to 15 minutes. Ham and egg cups baked for 12 minutes will have a runny yolk. The closer to 15 minutes of cooking time will have eggs with harder yolks.
• Remove the pan from the oven. Sprinkle with fresh parsley.
• Use a large spoon to remove the egg cups from the pan and serve.
• 1 large egg
• 3/4 cup whole milk or buttermilk
• 1 cup Stonewall Kitchen Buttermilk or Farmhouse Pancake & Waffle Mix
• 1 tablespoon butter, melted
• Stonewall Kitchen Lemon Curd
• 12 Raspberries
• 12 Blueberries
• 24 Small mint leaves
• 24 Toothpicks
• Confectioner's sugar
• Beat egg and milk together in a medium bowl. Add pancake mix and blend well. Stir in melted butter and mix thoroughly.
• Heat griddle to 350 degrees F. Spoon 3/4 teaspoon pancake batter onto hot griddle for each mini cake. Cook until golden brown on each side. Pancakes should be about the size of a quarter.
• Stack cakes four high. Top with a small dollop of Lemon Curd, a raspberry or blueberry and a small mint leaf. Dust with confectioner's sugar. Stick a toothpick through the stack to serve.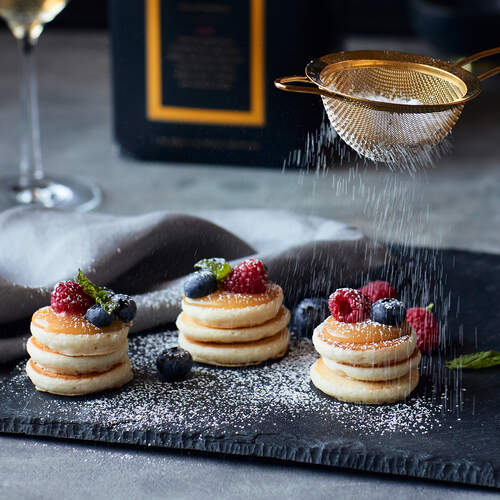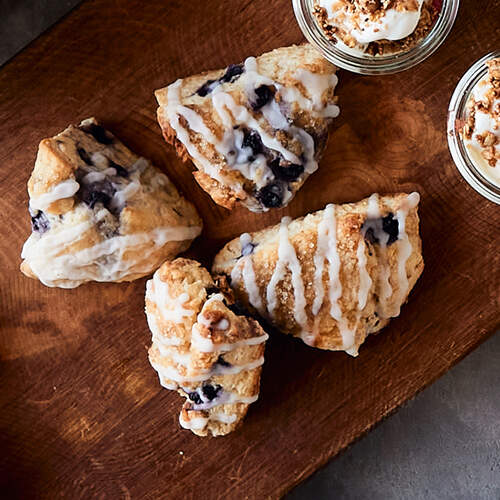 • 2 cups all-purpose flour
• ⅓ cup granulated sugar
• 1 tablespoon baking powder
• ½ teaspoon salt
• 6 tablespoons cold unsalted butter, chopped into small pieces
• ½ cup buttermilk
• 1 large egg, lightly beaten to break up the yolk
• 1 teaspoon pure vanilla extract

• 1 cup fresh or frozen blueberries, (if using frozen, do not thaw the blueberries)
• Turbinado sugar, for sprinkling, optional

For the Glaze
• 1 cup powdered sugar
• 2 tablespoons milk
• 1 tablespoon fresh lemon juice
• Preheat oven to 400°F and line a baking sheet with parchment paper and set aside.
• In a large mixing bowl whisk together the flour, sugar, baking powder, and salt.
• Add in the butter pieces; cut in the butter using a pastry blender or a fork to form fine crumbs.
• Stir in the buttermilk, egg, and vanilla; mix just until combined.
• Using a spatula, fold in the blueberries.
• Turn out the dough onto previously prepared baking sheet.
• Flour your hands and shape the dough into a circle. Using a sharp knife, cut the circle into 8 wedges.
• Spray tops with cooking oil and sprinkle with turbinado sugar, if using.
• Bake for 20 to 23 minutes, or until golden on top.
• Meantime prepare glaze by mixing the powdered sugar, milk, and lemon juice in a mixing bowl; whisk until everything is completely incorporated and no lumps appear. Add more liquid, if needed. For a thicker glaze, add more powdered sugar.
• Remove scones from oven and transfer to a wire rack. Set aluminum foil under the wire rack to catch the drippings of the glaze.
• Drizzle the glaze over the blueberry scones and serve.
Blueberry Mascarpone French Toast
• 4 cups cubed French bread (about eight 1/2-in. slices)
• 2 cups fresh or frozen blueberries
• 2 cartons (8 ounces each) mascarpone cheese
• 1/2 cup confectioners' sugar
• 10 slices French bread (1 inch thick)
• 8 large eggs
• 2 cups half-and-half cream
• 1 cup whole milk
• 1/3 cup sugar
• 1 teaspoon vanilla extract
• Additional confectioners' sugar
• 1 cup sliced almonds, toasted
• Additional fresh blueberries, optional
• In a greased 13x9-in. baking dish, layer bread cubes and blueberries. In a small bowl, beat mascarpone cheese and confectioners' sugar until smooth; drop by tablespoonfuls over blueberries. Top with bread slices. In a large bowl, whisk eggs, cream, milk, granulated sugar and vanilla; pour over bread. Refrigerate, covered, overnight.
• Preheat oven to 350°. Remove French toast from refrigerator while oven heats. Bake, covered, 30 minutes. Bake, uncovered, 30-40 minutes longer or until puffed and golden and a knife inserted in the center comes out clean.
• Let stand 10 minutes before serving. Dust with additional confectioners' sugar; sprinkle with almonds. If desired, serve with additional blueberries.