Summer BBQ Grilling with Black Box Wines
---
If you spend your summer outdoors — like we do — you're probably entertaining family and friends in the backyard by the barbecue. And whether you're grilling up finger foods or hosting a three-course meal, there is a Black Box wine pairing that will elevate your festivities and impress your guests.

Here are just a few delicious BBQ pairings with our Black Box wines to get you outside and grilling!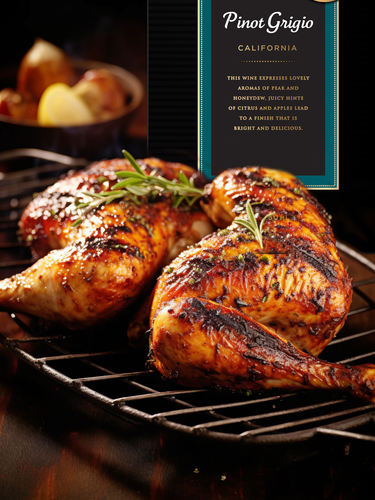 Black Box Pinot Grigio + Chicken & Fish 
---
This lighter-bodied white wine showcases notes of pear, honeydew, apple and citrus. You'll find it pairs especially well with chicken or seafood on the grill, as these pairings have similar intensities of flavor — light and delicious.

In fact, this wine can also be served before your BBQ because it won't overpower most menu items.

For the meal itself? Grill shrimp or chicken marinated in lemon juice and white wine (preferably Black Box Pinot Grigio) for a meal that's both light and refreshing.
Black Box Sauvignon Blanc + Grilled Cod
---
Our Sauvignon Blanc is extremely food-friendly, with peach and floral notes and hints of refreshing citrus. It's perfect for grilled vegetables and fish, which complement the brightness of this wine.

Grilled cod is delicious on the BBQ, whether placed directly over the coals or in a foil packet. Sprinkle the cod with a bit of lemon salt before throwing it on the BBQ. This seasoning pairs particularly well with the citrus flavor in our Sauvignon Blanc. Using a foil packet? Add lots of butter! Sauvignon Blanc naturally has a bit more acidity than other white wines, and you'll find it's a nice contrast to buttery or creamy foods.  

Adding grilled asparagus offers a pleasant crunch of texture, too. We suggest putting the asparagus on the grill a couple of minutes before the fish.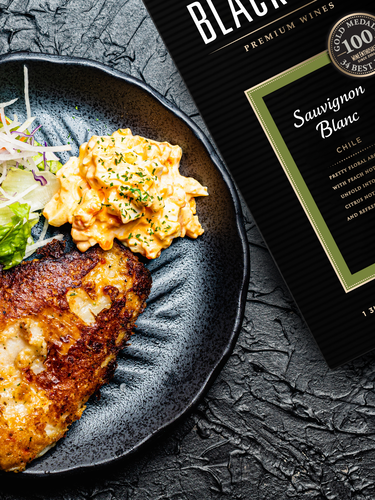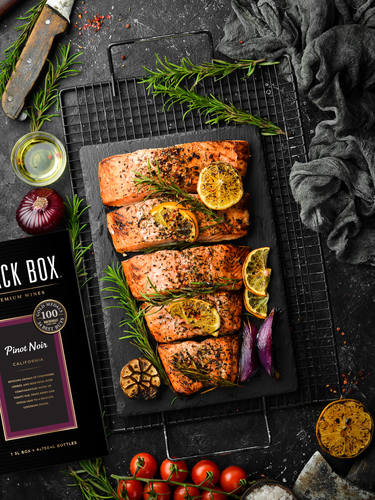 Black Box Pinot Noir + Smoked Salmon
---
Smoking salmon? Try pairing with our Pinot Noir. The smoky flavor of the fish will complement the notes of toasted oak in the wine. It's a very approachable red wine, perfect for a casual backyard event with your friends and family.

The rich aromas of strawberry and red cherry combined with fresh berry and cocoa flavors make this wine a true crowd-pleaser. The bouquet of fruit and earthy notes create a perfect pairing with the salmon's rich and slightly sweet meat.

Tell your guests that grilled Pacific salmon is on the menu with a delicious Black Box Pinot Noir. They'll come running.
Black Box Merlot + Ribeye Steak
---
Our Merlot is smooth across the palate with soft tannins and supple acidity. Hearty plum, vanilla, and cinnamon aromas lead to notes of black cherry and red berry fruit. There is no better pairing for a hearty ribeye steak!

Our supple Merlot will cut through the fat of a freshly-grilled ribeye while the mild fruit flavors allow the rich taste of the steak to shine.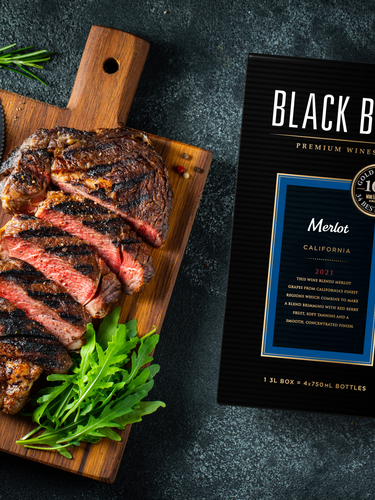 The Convenient, Delicious Way to Summer
Whether you're grilling for two or grilling for 12, our 3-liter boxed wines are the convenient, delicious way to go. Invite some friends to your BBQ and enjoy a Black Box summer!